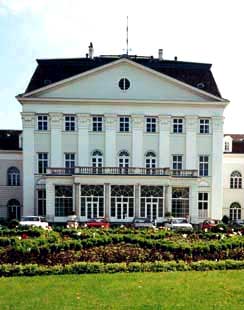 Local Arrangements Page
February 17 - 20, 2004
Hotel/Castle Wilhelminenberg, Vienna, Austria
---
---

---

Registration: [unencrypted] [encrypted]
Login to View Payment Information: [unencrypted] [encrypted]
---
The conference will be held at Hotel Schloss Wilhelminenberg, a beautiful hotel located in the northwest of Vienna.
The hotel Schloss Wilheminenberg was built between 1781 and 1784 and has been the hunting castle of Graf Lascy, an Austrian aristocrat. In 1988 the castle was renovated and reformed to the Hotel Schloss Wilhelminenberg.

The street address is Savoyenstraße 2, A-1160 Wien (Click to the image below for a map).





Digital maps of Vienna (with address location) are available at: http://www.wien.gv.at/wiengrafik/english/ or http://www.infomap.at/wienanfahrt/plan.asp.
---
Hotel reservations should be made directly at the hotel via phone (+43 1 485 85 03) or fax (+43 1 485 48 76).
Until January 17th, 2004, a special conference rate of EUR 86 for a single and EUR 120 for a double room is available.
Note: In order to get the special conference price, be sure to specify FoIKS 2004.
Note: January 17th, 2004, is a strict deadline.
---
[To Vienna] [In Vienna] [In Vienna] [From Airport to FoIKS] [From Railway Stations to FoIKS]
Vienna's Airport (VIE) is located southeast of the city and is served by all major airlines. All relevant information can be found on their webpage.
For train connections to Vienna, consult the timetable of the federal railway company (ÖBB). There are direct services to many central European cities.
Public transport is very efficient in Vienna, and has a searchable timetable (you can search for a connection between stops, addresses, and even landmarks [the latter unfortunately only in German]). Be sure to enter "Wien" as Town, "Vienna" will give strange results (see sample search).
The conference venue, Schloss Wilheminenberg, is served by bus lines 46B and 146B which run clockwise and counterclockwise, respectively, on the same route. These buslines connect to the underground system at station "Ottakring" which is a terminus of line U3, which connects to all other underground lines and also serves the city center ("Stephansplatz" - 13 minutes from Ottakring).
When arriving at Ottakring with U3, you can either take the rear exit ("Koppstraße"), go down, then turn right (towards "Rankgasse") and up a ramp. 46B and 146B depart from there (this is also the place where they drop you off when coming from the castle).
Alternatively, you can also take the front exit ("Thaliastraße"), go down the escalator or elevator, and follow the indications for 46B and 146B, i.e. you have to go left and pass through the older section of the station. The bus stop is just outside of the old part of the station.
Both 46B and 146B travel 11 minutes to Ottakring, so you can take either of them. 46B stops on the hotel side and 146B on the opposite side of the street.
Tickets are available from the busdriver or from vending machines in underground stations. A one-way ticket (from somewhere in Vienna to anywhere else in Vienna on a direct route) is EUR 1.50. Alternatively, there is a 24h ticket for EUR 5.00 and a 72h ticket for EUR 12.00. More information on the VOR and Wiener Linien (see "Tourist Information") webpages.
The Vienna's airport is located some 15 km (south)east of Vienna.
The simplest, but most expensive variant for getting to the conference hotel is taking a taxi. This will probably cost around EUR 30 or more.
Some companies like C&K offer taxis, limos or shuttles for a flat rate starting from EUR 25.
CAT is a new train service linking the airport to "Wien Mitte", where you can change to U3, continue to Ottakring and take bus 46B/146B to the conference hotel. The unique feature of this service is that you can check in at "Wien Mitte" for certain flights when departing from Vienna. Cost is EUR 8 for single and EUR 15 for a return trip. Note that tickets for underground and bus are not included in this price.
Vienna Airport Lines offers buses to Schwedenplatz (connection to U1 and U4), Westbahnhof (westbound train station, connection to U3), and Südbahnhof (southbound train station). Find here the timetable and more information in German. Ticket is EUR 6 (single) or EUR 11 (return). Underground tickets have to be bought extra. If you end up at Südbahnhof, the easiest connection is going to Westbahnhof by tram 18 (direction "Burggasse-Stadthalle") and change to U3 there.
The cheapest variant is going by Schnellbahn S7 (train) - it costs EUR 3 one-way (including underground and bus in Vienna). Be sure to buy "2 zones" from the vending machine. If you buy a separate ticket for Vienna, you need only "1 zone" (EUR 1.50). Have a look at the timetable and more information in German.
By train you will arrive either at Westbahnhof (westbound station; coming from Germany and Switzerland, but also trains from Hungary often stop there) or at Südbahnhof (southbound station; coming from Italy, Slovenia, Slovakia, Czech Republic, also some trains from Hungary).
From Westbahnhof it is simple - take underground U3 to Ottakring and then buses 46B/146B. Of course, taxis are also available (probably costs around EUR 10-15).
From Südbahnhof the best is taking tram 18 (direction "Burggasse-Stadthalle") to Westbahnhof and continue as above. An alternative would be to walk (some 10 minutes) or ride tram 18 to U1, take U1 direction "Kagran" and change to U3 to Ottakring at Stephansplatz. Of course taxis are available also from Südbahnhof (will cost some EUR 5 more than from Westbahnhof).
---
At 13.30 we will leave Schloss Wilhelminenberg and take a scenic ride by bus to Stift Klosterneuburg, an old abbey northwest of Vienna, where we are scheduled to arrive around 14.30.
After having enjoyed some coffee and cake in the Abbey's cafe, we will go for a guided tour of the estate at 15.15, finishing in the wine cellar. We will leave Klosterneuburg at 18.00.
Around 18.30 we shall arrive at Heuriger Steinschaden for the conference dinner. A Heuriger is a traditional (especially Viennese) restaurant, which is usually owned by winegrowers selling their products. This page offers some more explanation.
Between 21.30 and 22.30, a shuttle bus will give us a lift back to the conference hotel.
---
An extensive account of travel information for Vienna can be found on the official webpage of the Vienna Tourist Board. The webpage of the city of Vienna offers all sorts of informations on Vienna (including tourist information).
Public transport VOR has a are also special priced tickets for tourists.
Some of the main sights in Vienna include: