Castle Wilhelminenberg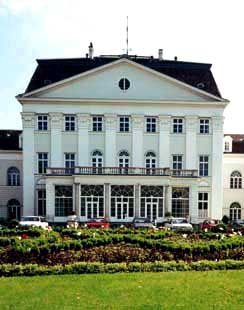 The workshop dinner will take place at the Hotel Castle Wilhelminenberg, located in the north-western outskirts of Vienna.
The Hotel Castle Wilhelminenberg was built between 1781 and 1784 and has been the hunting castle of Graf Lascy, an Austrian aristocrat. In 1988, the castle was renovated and reformed into the Hotel Castle Wilhelminenberg.
The address of the hotel is Savoyenstraße 2, 1160 Vienna.
There will be buses back to the Musikverein building which will be off at 23:30.
If you prefer to go to the dinner directly by public transport, you can take the following connections:
From station Karlsplatz, take the metro line U1 to Stephansplatz.
Change to metro line U3 to Ottakring.
At Ottakring, take bus 46B or 146B heading for Wilhelminenberg and get off at the stop Schloss Wilhelminenberg.